News of a joint buyout scheme for those affected by extreme weather has been met with relief by local politicians, but they say the work is just beginning and the devil will be in the detail. https://www.rnz.co.nz/news/national/491181/many-details-still-to-be-settled-local-politicians-react-to-govt-buyout-news
The government has announced a joint initiative with councils to buy out almost 700 property owners unable to rebuild because their land is not safe.
There will also be funding for flood mitigation and protection work, which would be needed before others could rebuild.
But who pays for what is yet to be negotiated, as people wait to see if they will be allowed to rebuild.
National says many questions remain unanswered
National has criticised the government's recovery plan, saying it leaves more questions than answers.
Cyclone recovery spokesperson Chris Penk told Morning Report the future for many of those who were affected was as uncertain as ever.
"It is important that we are able to agree with the broad principle of the thing, which is buyouts, where that's necessary. And as far as the announcement goes, it's good – for the people who have found out yesterday,that's positive for them," Penk said.
But National was concerned about how quickly the decisions would be made.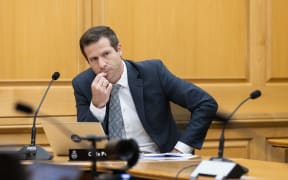 National's Chris Penk Photo: VNP / Phil Smith
"It's been a few months that the can has kept being kicked down the road… the fact that we've now got to this point and it seems there's still quite a lot more work still to be done – and if you put yourselves into the shoes of those who have faced this tragedy… they still don't have that certainty, and that's causing a real difficulty for them."
People needed definite answers about their situations to be able to move on, he said.
"There are quite a few gaps left to be filled in… we only heard about Hawke's Bay region… and within the Hawke's Bay we don't have anything other than the residential properties – so the big questions over areas where there are commercial, for example horticultural areas, not yet knowing what their fate will be.
"Then in terms of the detail… for those that have been announced, we don't know the split of the buyout cost between council and central government, we don't know for uninsured properties how that's going to be handled.
"We also don't know the basis of the valuation on which the buyout's going to be made, so a lot more questions than answers."
National also had questions about the scheme being voluntary, and whether people remaining on unsafe land could mean emergency services were called on in the future to risk their lives.
Buyout plan a relief – Gisborne mayor
Gisborne Mayor Rehette Stoltz told Morning Report each step toward future certainty for those affected was helpful, but there was a lot more to do.
"It is great to have more information… the people that we have spoken to are relieved. This has been a traumatic journey for them, so at least to know there's a next step in their journey is great, but for us as the local government there are still a lot of questions.
"We need to have discussions with the government to talk about the co-funding, because the devil will be in the detail. I have been very clear right from the start that our community is hurting and that we will need significant financial support."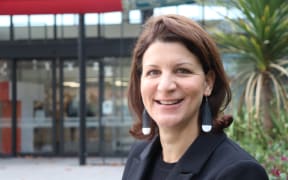 Gisborne Mayor Rehette Stoltz Photo: RNZ / Tom Kitchin
But Stoltz said before discussions could begin on how the payouts would be split between council and central government, there needed to be more detail about types of flood protection works that could be available.
Both parties needed to know the scale of the project before talking about how the bill would be split.
"We need to first have absolute clarity that certain projects can go ahead, and then we can sit down and talk about ratios… once we get closer to those flood protection numbers, we can start talking about percentages."
Stoltz said the government would have to foot the larger portion of the cost, because the region was struggling.
"There's a lot of hurt, our community has been devastated, there are people that when you talk to them on the phone are just in floods of tears, people that don't know if they want to stay where they are – people want to know here in Gisborne, if I stay in my home will I be safe at night when it's raining?"
People wanted action yesterday – Auckland councillor
In Auckland, about 400 properties will not be rebuilt and owners will be bought out by the government. But homeowners have to wait until 12 June to find out how their houses have been categorised.
The Waitakere area was heavily damaged by the Auckland Anniversary floods, Councillor Shane Henderson telling Morning Report the announcement was a big relief.
"I think people are generally quite happy in Auckland that now we've got a bit of a plan going forward, we've got our recovery programme, we've got voluntary buyouts as part of a commitment from the government.
"The challenge of course is that timeframe, and it's always going to be a bit longer than people need – I do appreciate that… so I think we need to get to it as quick as we can, so June 12th, that's when we're starting to knock on the doors."
Home revaluations in affected areas could be among the work the council would need to undertake before buyouts went ahead.
"People are really working around the clock until we get to June 12th, to work through that detail… Communities want us to get this done yesterday, but we've also got to get it right."
That the scheme would be voluntary for people to opt into was a complex issue, he said.
"Some people do want to stay in their communities, other people feel so traumatised by the events of January that they're itching to leave."
While there were pockets of intense damage right across Auckland, some communities would be changed markedly by the disaster and the buyouts, particularly coastal West Auckland communities, where proactive community planning would be needed.
With Auckland Council already facing a big budget hole, absorbing the costs of the rebuild and buyouts was going to be difficult, he said.
"The cost will be a big challenge for Auckland Council, no doubt about it… we'll need to look at the levers that we have to try and sort this through, because this is an emergency and it's a desperate situation still for so many Aucklanders.
"In terms of the capital works, which this may fall under, then borrowing is generally the lever that you do use, so that would be the kind of situation we'd be looking at, but we don't know figures or anything yet, so that's still a bit up in the air."
https://www.rnz.co.nz/news/national/491181/many-details-still-to-be-settled-local-politicians-react-to-govt-buyout-news